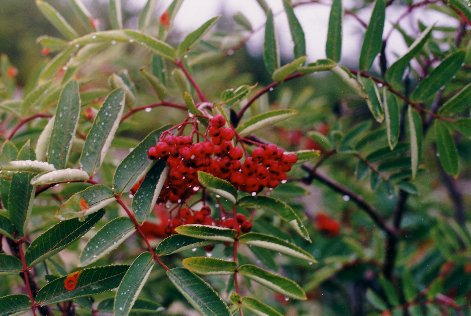 Mountain Ash Berries, Les Escoumin, Quebec (Ollin, 2002)
Consultations
Instruction/Mentoring Opportunities for Students of Herbology and Aromatherapy

CONSULTATIONS
I am available for consultation for individuals wanting to implement natural and holistic remedies and healing modalities into their health regime or healing process. My consultations are entirely educational and are not intended to replace medical advice. I pull from a broad field of knowledge and 45 years experience in holistic healing using herbs, essential oils, TCM, Eastern healing techniques, diet, and homeopathy. My hourly rate is 75.00.
MENTOR/INSTRUCTION~Herbal/Aromatherapy
I offer one-on-one instruction, in person or online, in all aspects of herbal and ethnobotanical studies for those interested in learning the art of folk healing, herbal preparations for health and well-being. My experience working with herbs - indentification, cultivation, harvesting methods, wildcrafting, botanical formulations including the use of aromatherapeutic essential oils, and as an herbal practitioner - spans 45 years.
For detailed information on working with me as a student either in person or online through a structured/distance learning format, or, if you are looking for a mentor please call for details and course outline.

Tuition and fees are tailored to your specific skill level and needs.
Instructor. J. Ollin MA/MS. Master Herbalist/Owner/Formulator Lakon Herbals 1985
802-449-7200